agarbatti making machine repairing Service
Service is provided in Kolkata and nearby districts
Make call 7278231209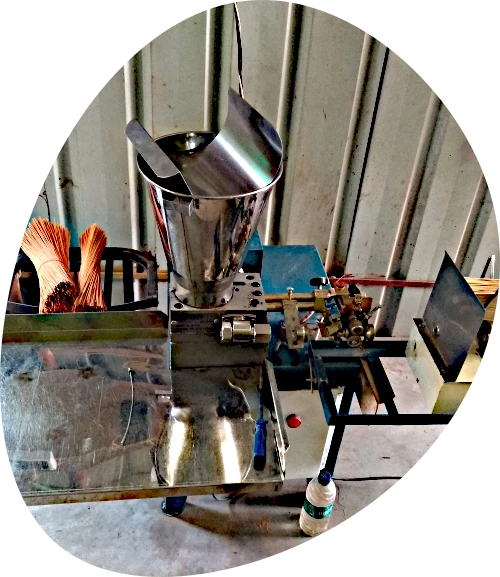 We provide agarbatti making machine repairing services, we will help you to running your factory smoothly. We know how importance for a factory to run it's machinary in full force. Thats why, our well experienced mechanics are repairing your agarbatti machines with care. Our experienced mechanics provide there service with very less price. Also, We are providing all type of agarbatti machine spare parts from original suppliers, which will last for very long time. And we sell it as per market price. We are wishing to provide your service and it will keep your factory in running state for all time.
Why choose us?
Skill:
Our mechanics are highly skilled in repairing agarbatti making. They are working form long time in this agarbatti industry. They are able to repair all kind of agarbatti making machines like PEDAL AGARBATTI MAKING MACHINE, AUTOMATIC AGARBATTI MAKING MACHINE. Our skilled mechanics will make your machines very good condition which ensure peak performance for your factory.
Quick response:
We know how bad it is for a factory if a machine breaks, every seconds create losses. Thats why we response very quickly as soon as we get your breakdown call. If it your factory is located in our local area, first will take video footage of the broken machine then after analysis we will send our mechanic to your factory. And for long distance factories will send our mechanics next day.
Quality service:
We believe in our mechanic's skill and depending on our mechanics ability we are ensuring you that your machines will repaired perfectly. We always provide original machine parts which will ensure long lasting life of your machine.
Low expenses:
We believe in providing affordable solutions without compromising on quality.
Our Services
agarbatti making machine repairing service:we provide repairing service for all kind of agarbatti making machine.

Problem detection and repairing.

replacement of old machine parts with original new condition machine parts

Preventive maintenance: We provide routine maintenance service to prevent any big breakdown in near future.

Regular inspection and service

Emergency repairing: Fast repair service to keep your production running as soon as possible.

Spare parts : we have A wide range of genuine agarbatti making machine spare parts.

Guarantee of long life and reliability of your machines.

Advice and upgrades: Professional advice for machine optimization and upgrades.

Guidelines to improve your productivity and efficiency
Service Charges
Gear box repair ₹1500

This price is valid within 100 km from Nimta. Beyond that, the price will be higher.

Drive replacement (with new drive) ₹13,000

This price is valid within 100 km from Nimta. Beyond that, the price will be higher.

Relay replacement ₹3,500

This price is valid within 100 km from Nimta. Beyond that, the price will be higher.

DC motor replacement, pressure bolt set and other small works ₹1,200

This price is valid within 100 km from Nimta. Beyond that, the price will be higher. For Nimta and nearby Kolkata, it will be in the range of ₹800-₹1,000.
Our payment terms are as follows
You will need to pay an advance of ₹200 to book the service. The remaining amount will be paid to the technician after the work is complete.
Call 7278231209 to fix agarbatti making machine